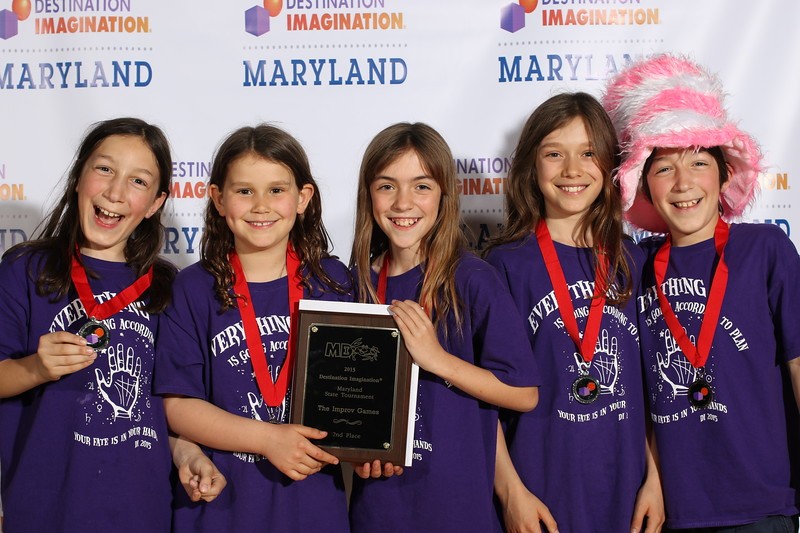 I have many times on this blog shared how much I feel that Destination Imagination is one of the most perfect homeschool activities. This is our sixth year of participating in Destination Imagination (I have coached about half of those years) and the second time we've won our regional tournament and had the chance to go to States. However, it's the first time we've ever advanced to Global Finals! The boys' team took second place at States, which qualified them to move on to the biggest DI party on the planet. I'm still a little bit in shock about it a couple of weeks later. It's a huge win for them.
In case you aren't familiar with it, Destination Imagination (and the formerly related organization Odyssey of the Mind, which is very similar) is a creativity competition. Kids choose a central challenge (unless they're in the special, non-competitive K-2nd Rising Stars challenge) from among technical, structural, improv, service learning, scientific, and fine arts options. The challenges change every year but generally ask kids to make something and incorporate it into a skit. For example, the technical challenge might ask kids to make a vehicle that can travel to a certain box while they do a skit about travel. The service challenge might ask kids to do a service project that incorporates a logo they make themselves and then present at the tournament. Kids spend months working on their challenge solutions. There's a second component to Destination Imagination. Teams also have to face an instant challenge at the tournament. This is usually something they have to build or a performance they have to present, usually with only a few minutes to prepare.
Getting ready for a Destination Imagination tournament – both the central and instant challenges – involves a lot of teamwork, of the best sort, the kind that doesn't feel artificial the way "group learning" does in school. This teamwork feels authentic, the way decisions are made in the real world. It fosters independence since team managers and parents have to sign non-interference contracts. It teaches skills and information of all kinds. You never know where a challenge is going to lead exactly. The kids have learned about historic figures, face painting, movie editing, entomology, structural engineering and more. There are always a lot of rules to a challenge, but finding a way to be creative within those boundaries is part of what encourages kids to really stretch themselves. Instead of just a blank canvas, Destination Imagination gives them limitations but asks them to make something anyway, to look for ways to think beyond the limitations.
Really, I can't sing the praises of this sort of activity enough. As we've done this for several years, the kids have gotten into the culture of DI. They collect DI pins, get excited to design their team shirts, know that zany hat wearing is part of being at the DI tournament, come up with silly call backs when the judges ask if they're ready, and look forward to the generally positive atmosphere at the tournaments. It's a competition, but the spirit is friendly. Teams tend to be appreciative and inspired by each other. Basically, Destination Imagination is fun even when you lose.
Of course, we're so proud that the kids won this year. They have dreamed for a few years of getting a chance to attend Global Finals, which is supposed to be both fun and educational. However, we were pretty surprised by the overall cost. Family has helped out and we expect to foot part of the bill, but we did get sticker shock seeing the cost. A lot of teams have the institutional support of their school, but obviously that's not the case for us. We're not even part of a large co-op that can raise the money. As such we've done what people do these days and set up a GoFundMe to see if we can raise part of the money for the team to attend. Feel free to share.