Reading is trucking along at the Rowhouse.  Here's some of what's been on our shelves last month.
Audiobook
Countdown by Deborah Wiles
What a great audiobook rendition this was!  I've read both the book (when it first came out) and now listened to the audio with the kids and I'm not sure which one I like better.  The book takes place during the Cuban Missile Crisis of 1962 and follows Franny, a girl with a somewhat dysfunctional family in suburban Maryland.  Wiles crams every single corner of the story with 60's details about everyday things like the newness of McDonald's and the changing music that Franny listens to on her sister's records, to cultural trends and historical connections.  Franny's father is in the air force, her sister is at college training with SNCC, her little brother is obsessed with astronauts and nuclear power.  The story is good too – Franny must face her fears and repair a relationship with a friend – but the "documentary" aspect of the story is the real draw.  In the book this takes the form of images splashed with quotes and short mini-essays that intersperse the chapters.  In the audiobook, sound effects and voice actors doing imitations of Kennedy and other famous figures of the day take the place of the documentary images.  Overall, a perfect listen for us as the story was exactly the sort of "everyday kid" story that Mushroom and BalletBoy are drawn to, but set amid duck and cover drills and old fashioned details.  Added bonus: the second in Wiles's 60's trilogy just came out this month.
Read Aloud
One Crazy Summer by Rita Garcia-Williams
You're probably starting to sense a theme.  We are studying the 60's at the moment, so this was another book I really wanted to use with my boys.  I just adore the strong language and the metaphors that abound in this book about three sisters who go visit their mother for the first time in 1968.  Their mother just happens to be a Black Panther and the book is filled with reflections on race that I hope will be illuminating for my privileged duo.  The opening scene, where the girls' grandmother exhorts them to not be an embarrassment to their race certainly gave us a meaty conversation.  I spotted a history book at the library with photos of the Black Panthers, including some of the breakfast program and summer camp that the girls attend in the book.
School Read
10,000 Days of Thunder by Philip Caputo
We didn't read all of this history of the Vietnam War, but it's such a great book that it's worth touting.  We've used the others in this nonfiction picture book style and the format is so terrific.  On one page, there's detailed text about some aspect of the war and on the facing page there's a full page image.  Shorter text boxes with facts and quotes line the edge of the narrative page.  This is just the sort of detailed history that the boys are on the cusp of really being ready for, so we have been using this one both for the history and for working on deciphering and understanding longer nonfiction texts.  Both the boys have really enjoyed studying the Cold War, but the Vietnam War has been one aspect that has left them asking a lot of good questions.  I've had to explain that hindsight is 20/20.
Another School Read
I Feel Better with a Frog in my Throat by Carlyn Beccia
This hilarious and bizarre book of strange cures throughout history was at just the right level for the boys, who were both fascinated by the fact that, not only did people actually do this stuff, but some of it was stuff that actually worked.  The illustrations are colorful and interesting, and, of course, the subject is fun.  We used it to go along with our study of medicine, but it could easily be a good read with medieval history or just for fun.
Graphic Novel
The Return of Zita the Spacegirl by Ben Hatke
Hey, lookie!  A new Zita!  I don't know that this is our absolute favorite middle grades graphic novel series, but it's really close to the top.  The boys were thrilled to get a third installment and devoured it faster than you could say spacegirl.  This one finds Zita again fighting for her life and for justice for others, her reputation again at stake.  However, a mysterious figure reappears to help and she may actually make it home this time.  If you haven't given this series to your comic book readers yet, then please do.  It's truly one of the sweetest, best drawn things out there for middle grades and chapter book readers.  Best of all, the boys got to meet the artist, Ben Hatke, at a local library event and have their books signed!
Pleasure Read
Choose Your Own Adventure Books
After a conversation with the Husband, a box of these were ordered and the boys have both been enamored with them.  They're the same old, extremely cheesy books you remember from your childhood.  I think the ones we have include being a prisoner of giant ants, fighting evil aliens, racing across the African desert, and battling natural disasters.  The writing is beyond dreadful and the plots are bizarre at best, but there's something so much fun about reading a book in second person where you can actually change the outcome.  Both the boys read a few of the books in the Choose Your Own Adventures chapter book level series, which I highly recommend for reluctant readers who are trying to make the leap from easy readers like Frog and Toad to longer things but seem too stuck to make it all the way.  This older, classic series is also good for reluctant readers.  My less than reluctant boys can finish multiple plot options in well under an hour, so they're a very quickly consumed item.
Mushroom's Reading
Treasure Hunters by James Patterson and Chris Grabbenstein
Mushroom started with Grabenstein's sublimely fun Escape from Mr. Lemoncello's Library and was moved to write anything else by the author.  His other books were co-written for literary bigwig Patterson, so Mushroom next read and loved I, Funny then dug into this heavily illustrated novel about twins (twins!) who are homeschooled (homeschool!) and travel the world with their parents looking for treasure (if only!).  I didn't read the whole thing, but the set up is cool and the illustrations are very cute.  At the start of the story, the parents go missing and the siblings embark on a series of exciting adventures to find them and treasure.  Mushroom says it's "pretty good."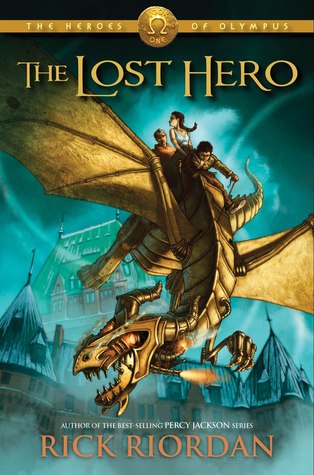 BalletBoy's Reading
The Lost Hero by Rick Riorden
We finally wrapped up all those Percy Jackson books, but I told the kids that if they wanted to dive into the other Riorden series, they were on their own.  Both the boys promptly demanded to read The Lost Hero and BalletBoy is currently in the middle of it.  They both give it thumbs up and have been talking about it together.  I admit that I really enjoyed Percy Jackson when it first came out, but reading other books by Riorden has spoiled their full charm for me as he seems to be sort of a one note writer, sort of like that actor who you think is brilliant in their first role, then by their third movie, you realize that no matter what part they're playing, they play it the exact same.  I feel a bit like that about Riorden's writing voice.  Still, he obviously knows how to craft an exciting tale and I'm not at all sorry to see that the kids have hooked on to this series that picks up right where the Percy Jackson books leave off.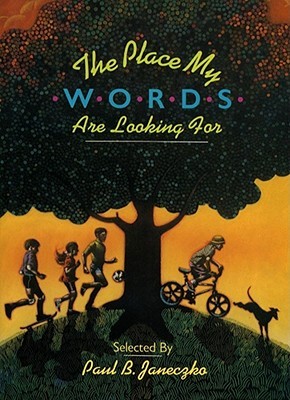 Poetry Tea Find
The Place My Words Are Looking For selected by Paul Janeczko
We continue to do poetry teas regularly and one of my favorite parts is looking for new books to strew on the table (or, more recently, on the picnic blanket) when we sit down with baked goods to read poetry.  This book is a nice find.  It's an older book that features good poems by a good selection of poets who write for children, including big names like Naomi Shihab Nye, Cynthia Rylant, and Gwendolyn Brooks.  The poems are well selected, but most of the authors have short pieces about the process of writing included as well, which is what made the book a nice find.
Farrar's YA Read
Finnikin of the Rock by Melina Marchetta
I have always been a great fantasy lover, so it's great when I find something new in fantasy that's worth reading.  I think I may have said this before on this blog, but fantasy is really where it's at in YA the last few years.  Publishers are still churning out dystopians, but in terms of quality storytelling and solid writing, high fantasy is really where it's at in the imaginative YA literature category.  Finnikin of the Rock is about a young man whose kingdom is closed off by a curse while the inhabitants suffer inside and the refugees suffer in poverty outside.  A woman with the ability to see inside other's dreams may be able to help, but first they have to rescue the kingdom's missing prince.  The writing is solid and the details of the world and the characters are very well drawn.  I'm not in love with the fact that it's a story of one woman, surrounded by men.  This is not a story that passes the Bechdel test.  However, it was still an enjoyable YA read.